The ergonomic shape of Lumea Prestige allows for a good grip. I find it very practical that it can be used wirelessly, and not always plugged into an outlet.
Preparation
Before each session, it is necessary to remove the hair.
Several methods are proposed: razor, trimming… but definitely no depilatory creams which irritate the skin. To my great surprise, waxing is also suggested: I thought that the hair only needed to be trimmed so that the flash could reach the root.
In any case, the skin should not have any redness before using Lumea.
It is necessary to clean your skin beforehand to remove any trace of cream.;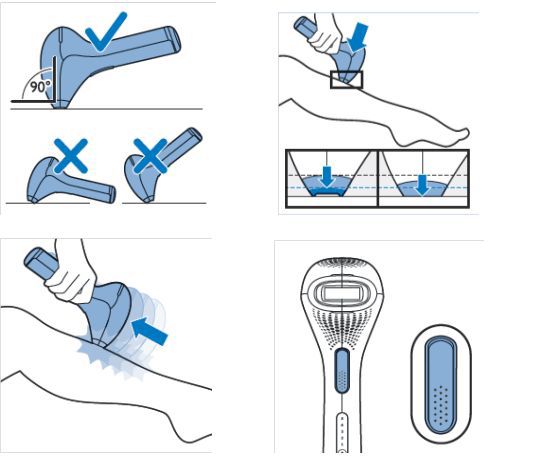 When you turn on the device, you can choose the light intensity that suits you (after checking with the skin sensor).
Lumea Prestige should be placed perpendicular to the skin (at 90°).
There is a safety system that prevents flashing when the device is not in proper contact with the skin. You must firmly press the tip onto your skin. The "ready to flash" indicator turns white, and you can continue your session.
Do I need to wear protective glasses?
The instructions indicate that Lumea Prestige is safe for our eyes and that we do not need to wear glasses. It is specified not to look at the flash during use and to be in a well-lit room so that the flash is less dazzling.
To be more comfortable and take no risks, I still recommend wearing protective glasses. This will allow you to see what you are doing without being blinded by the flash. There are several shades of lens available, and I hesitated between the dark and light tint. I ultimately chose the lighter tint and I am very satisfied with this choice (I think the other option would have been too dark).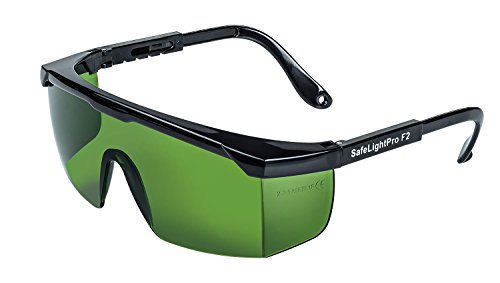 Les lunettes de protection spéciale lumière SafeLightPro F2 garantissent une protection des yeux spéciale contre la lumière très efficace en cas d'utilisation d'appareils d'épilation utilisant la technologie HPL / IPL.
L'obscurcissement du SafeLightPro F2 est plus clair de trois indices que celui du SafeLightPro F5. Pour choisir le bon indice d'obscurcissement, F2 ou F5, veuillez tenir compte de la sensibilité de réaction de vos yeux aux flashs très vifs.
Elles offrent en outre une protection des yeux et du visage contre toute blessure provoquée par des contraintes mécaniques. Les verres sont fabriqués en polycarbonate résistant aux chocs.
Les lunettes répondent aux spécifications de la norme européenne DIN EN 166 : 2001 & DIN EN 170 : 2002, annexe II de la directive EPI 89/686/CEE.
Frequency of hair removal sessions
At the beginning of the program (initial phase)
The first four sessions should be done every two weeks. Remember to note them on a calendar or download the application provided by Philips to keep track of your sessions.
For maintenance (touch-up phase)
Depending on your hair regrowth, you will need to do a session every four to eight weeks.
Recommendation regarding tanning
Natural or artificial
It is recommended to avoid sunbathing and artificial tanning before and after using Lumea Prestige. This is because tanned or dark skin may absorb more light, which can increase the risk of skin damage.

Wait for 48 hours after each session before exposing your skin to sunlight. Check that your skin does not have any redness after using Lumea Prestige.
If you cannot avoid sun exposure during the 48 hours after the session, use a sunscreen with a minimum SPF of 50+ on the treated area. Then, use a sunscreen with a minimum SPF of 30+ for two weeks.
Wait for two weeks after tanning before using Lumea again.
Therefore, in summer, don't forget to buy sunscreen!
Of course, if you have a sunburn, do not use Lumea on the affected areas.
I strongly recommend starting the sessions in autumn or winter, especially since at the beginning, a session needs to be done every two weeks. Additionally, during this time, the skin is less tanned.
Self-tanning cream
If you have used self-tanning creams, you should wait until the tan has completely disappeared before using the device.
Cleaning the device
After your session, unplug the device and let it cool down.
Remove the accessory.
Moisten the soft cloth provided in the kit and clean the following parts (depending on the model purchased):
The filter glass on the device
The external surface of the accessories
The transparent filter glass in the bikini and precision attachments
The red filter glass inside the face attachment
The skin tone sensor
Do not immerse the device in water under any circumstances.